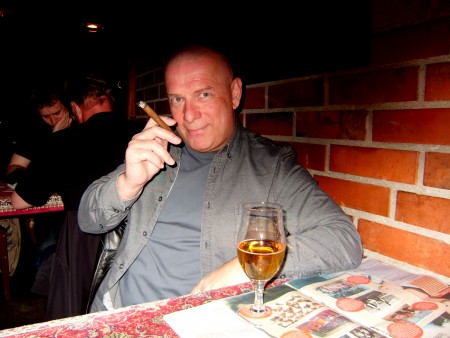 Ari Paulow is a Finnish  author best known for his Jesse Hackman thriller novel series.
The books follow the investigations of a former barkeeper, private detective Jesse Hackman in his home town Oulu in northern Finland.
Most Hackman novels take place in Oulu and  the city's close surroundings.
Many say that reading Paulow's books is like watching a movie shot on location in the streets, the bars, the sea front and the diverse neighbourhoods of the town.
Besides describing the city and the investigations of his protagonist, Paulow often stops to tell about the background and history of notable buildings and sites in Oulu.
On radio, tv and newspaper interviews, Paulow himself has stated, that – alongside detective Hackman – he wants Oulu to be a main character in his stories.
Paulow's crime fiction novels represent the traditional hardboiled style with modern fast action and a humane and often an abundantly humorous touch.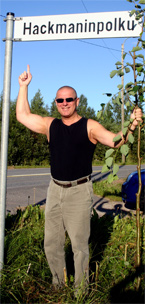 After living his first 11 years in eastern Finland in Kajaani, Paulow settled in Oulu and later in the neighbouring municipality of Kempele.
Graduated from The Oulu Institute of Technology Department of Mechanical Engineering, Paulow has written numerous newspaper columns and articles for magazines and dailies alike.
As his fictional private eye, Paulow was also a long time barkeeper in Oulu.
Formerly, Paulow was involved in various sports activities as a competitor, a promoter, a club chairman and an active on a national level organization.
As of 2019, Paulow has published 12 Jesse Hackman novels, a futuristic dystopy, two adventure books for the youth and a basic guide for gym training.
In early 2000s, Paulow wrote special issues of the German-originating Jerry Cotton FBI agent novella series.
Currently, Paulow resides and writes in Kempele. His main activies include weight training, reading, watching movies and listening to blues and rock music.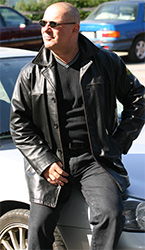 A keen traveller since his early twenties, Paulow has visited almost 40 countries and many of the major cities.
Good food and wine, single malt scotch whiskies, craft beers, architecture, maps and rivers, trains and early to mid 1900s art are among his many interests.
Paulow's latest Jesse Hackman novel, Väärintekijät (The Wrongdoers), was published on 15th of June, 2019.